BOOM! Studios is an American comic book company headquartered in Los Angeles, California, United States.[1] The "BOOM!" in BOOM! Studios is always capitalized by the company.
BOOM! was founded June 22, 2005 with Zombie Tales #1.
BOOM! Studios was founded in 2005 by Ross Richie. The studio specializes in high-profile projects across a wide variety of different genres from some of the industry's best known writers, including Philip K. Dick's Do Androids Dream Of Electric Sheep?, The Henson Company's Farscape, and the original Mark Waid series Irredeemable. BOOM! recently launched its youth imprint, BOOM Kids!, with Pixar's The Incredibles, Cars, and Toy Story, as well as Disney's The Muppets, Donald Duck, Uncle Scrooge and Walt Disney's Comics and Stories. The year 2010 sees BOOM! Studios celebrates its fifth anniversary.[2]
Prior to BOOM!, Richie worked with Andrew Cosby at Malibu Comics from 1993 to 1995. The duo left the comic book business to pursue careers in feature films and were involved producing the feature film adaptation of Mage by legendary comic book creator Matt Wagner with Spyglass Entertainment,[3] and had various projects with Mike Medavoy (Phoenix Pictures),[4] Mark Canton (The Canton Company), Akiva Goldsman, and Casey Silver.[5] Working with Dark Horse Comics, the duo set up "Damn Nation" at MTV Films/Paramount Pictures,[6] a comic book Cosby created with the partnership attached to produce.[7]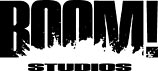 Immediately prior to BOOM!, Richie worked with Dave Elliott and Garry Leach to re-launch Atomeka Press in 2004.[8] Andrew Cosby is the co-creator of the Sci-Fi Channel TV show Eureka.[9]
At the 2007 San Diego Comic Con, BOOM! announced plans to launch a new all ages imprint producing comics for children, originally announced with the name "ZOOM!", but when the imprint launched in 2009, the imprint debuted as "BOOM Kids!".[10] Also announced during the 2007 San Diego Comic Con was the appointment of Mark Waid as Editor-in-Chief.[11][12] After three years in the position, right before the 2010 San Diego Comic Con it was announced that Waid had been promoted to Chief Creative Officer, with former Managing Editor Matt Gagnon now taking the reins as Editor-in-Chief of BOOM! Studios.[13]
On January 3, 2008, BOOM! became the first comic book company to offer a digital download of a comic book on the day and date of its release, partnering with MySpace.[14] As a result, the first issue sold out [15] and went to second printing. Sales on issues four and five increased.
One year later, on January 6, 2009, BOOM! teamed with MySpace.com again to offer a free digital day-and-date release for HEXED along with the "5 for 500" program, sending five copies at no cost to the top 500 retailers in the Direct Market.[16]
BOOM! have also signed a deal with Disney/Pixar to produce comic books based on their properties,[17][18] titles which secured newsstand distribution.[19][20] The first included The Muppet Show by Roger Langridge[21][22] and The Incredibles: Family Matters by Mark Waid and artist Marcio Takara.[23][24]
On March 4, 2009 BOOM! Studios announced Mark Sable's latest series Unthinkable.[25] To promote the launch of the book, BOOM! created an Altered Reality Game (also known as an Alternate Reality Game or ARG) to be played during the time pre-orders are due.
The company has been very active by participating in various events, including the L.A. Times Festival of Books, Heroes Con, San Diego Comic Con, Toronto Fan Expo, D23 Disney Convention, and Baltimore Comic Con.[26] At the 2009 Festival of Books, writer Kim Krizan along with Chip Mosher, Michael Alan Nelson, Gary Philips and Mark Waid participated in "Big! Bold! BOOM!: BOOM! Studios Talks Comics," discussion, which was moderated by Los Angeles Times writer Geoff Boucher.
The publisher launched another imprint in early 2010 called Boom! Town, which would be working with people like Denis Kitchen and Shannon Wheeler and focusing on "literary comics."[27]
The company was named Wizard Magazine's Best New Publisher of 2005, four months after their first book was published.[28]
BOOM! was awarded "Best Publisher" in 2010 for 2009 by Diamond Comic Distributors in an award voted on by Direct Market retailers.[29]
In 2010, BOOM! was nominated for 7 Eisner Awards [30] and 5 Harvey Awards.[31] I "The Muppet Show Comic Book" won Roger Langridge a Harvey for "Best Original Graphic Publication for Younger Readers."[32] that year.
In 2011, Shannon Wheeler's I Thought You Would be Funnier was nominated for an Eisner Award for Best Humor Publication[33]. The first book by BOOM! Studios' alt-lit imprint BOOM! Town, Wheeler's I Thought You Would Be Funnier took home the Eisner Award and was accepted by author Shannon Wheeler and BOOM! Studios Marketing Director Chip Mosher, who edited the volume.
Original titles and spin-offs
Edit
The Anchor (by Phil Hester, with art by Brian Churilla)[34]
2 Guns - Undercover cops end up on the same case, unbeknownst to each other
Challenger Deep (concept by Andrew Cosby, written by Andy Schmidt with art by Chee, 4-issue mini-series)[35]
Cold Space (co-written by Samuel L Jackson, Eric Calderon and Jeremy Rock, with art by Dave Johnson)
Cover Girl (co-written by Andrew Cosby) - A Hollywood action star finds himself at the mercy of a female bodyguard
Cthulhu Tales (written by Steve Niles, with art by Chee) - An ongoing series springing from the one-shot.[36]
Dead Run (by Andrew Cosby/Michael Alan Nelson and artist Francesco Biagini)[37][38]
Dracula: The Company of Monsters (by Kurt Busiek/Daryl Gregory and artist Scott Godlewski)
Enigma Cipher - DaVinci Code-style mystery
Fall of Cthulhu - (written by Michael Alan Nelson, with art by Jean-Jacques Dzialowski (volume 1), Greg Scott (volume 2) and Mat Santolouco (volume 3)) - Nyarlathotep plots Cthulhu's downfall in this ongoing
The Dominion - aliens have invaded Earth by way of viruses that mutate people
Fear the Dead - Zombie Survival Handbook
Foundation -
Galveston (written by Tom Peyer and Mark Rahner, with art by Greg Scott, 6-issue mini-series, October 2008)[39][40]
Giant Monster (written by Steve Niles) - An astronaut arrives back on earth, turned into a giant monster. Three prestige format comic books.[41]
Hero Squared (by Keith Giffen and J. M. DeMatteis) - A real superhero from one dimension ends up in another.. where he did not get superpowers and is a slacker
High Rollers (written by Gary Phillips, with art by Manuel Magalhaes)[42][43]
Hunter's Moon - from James L. White, the screenwriter of the film Ray, an African American man goes on a hunting vacation with his son, who is kidnapped in a white-only town.[44]
Incorruptible - (created/written by Mark Waid with art by Jean Diaz) - A spin-off of Irredeemable. A super-villain decides to turn over a new leaf.
Irredeemable (created/written by Mark Waid with art by Peter Krause) - A Superman-level powered superhero becomes the world's greatest supervillain
Jeremiah Harm (written by Alan Grant and Keith Giffen) - A criminal is released to track down more criminals
Last Reign: Kings of War (written by Michael Alan Nelson)[45]
Left on Mission - (written by Chip Mosher,[46] with art by Francesco Francavilla and colors by Martin Thomas[47]) - A mysterious government Agent must stop the sale of a critical hard drive
Mr. Stuffins - Stuffed bear gains Artificial Intelligence
Necronomicon (written by William Messner-Loebs, with art by Andrew Ritchie, 4-issue mini-series)[48][49][50]
North Wind - Post Apocalyptic, Antarctic Adventure
Potter's Field (written by Mark Waid) - A man wants to find the identity of an unidentified grave. This series was supposed to be published near the start of Boom!'s launch, with the title John Do.
The Remnant (created by Stephen Baldwin and Andrew Cosby, written by Caleb Monroe, with art by Julian Totino Tedesco)[51]
Salem (written by Chris Morgan and Kevin Walsh)[52][53][54][55]
Salvador - a genetically engineered being, who can fly but is made out of glass, becomes his peoples' savior.
Savage Brothers (written by Andrew Cosby and Johanna Stokes) - Post-apocalyptic zombie tale.[56][57][58]
Scream Queen (written by Brendan Hay)[59]
Second Wave - Invading Martians return to Earth. Sequel to War of the Worlds.
Station (written by Johanna Stokes, with pencils by Leno Carvalho and inks by Ed Dukeshire)[60]
Tag (written by Keith Giffen) - A man falls victim to a plague that is eating his body. Optioned as a film.

Tag: Cursed - Tag's sequel

Talent (written by Christopher Golden and Thomas E. Sniegoski) - A plane crashes, with one survivor... who inherits the talents of the others. Optioned as a film.
The Unknown (by Mark Waid and Minck Oosterveer)[61]
Unthinkable (by Mark Sable)
What Were They Thinking - Comic books under public domain are parodied
X Isle (written by Andrew Cosby and Michael Alan Nelson) - Researchers land on a mysterious island full of beasts
Graphic Novels/One-Shots/Tales
Edit
10 (written by Keith Giffen) - Ten people are each given a gun and 10 bullets... and forced to hunt each other down
Black Plague (written by Joe Casey) - The mob goes to war with a supervillain empire, while another criminal wages war on both
Cthulhu Tales - One-shots containing short Lovecraftian horror stories. Three exist: "Cthulhu Tales",[62] "Cthulhu Tales: Tainted"[63] and "Cthulhu Tales: The Rising";[64] which have been collected in a single volume (ISBN 1-934506-15-X).
Fused Tales (written by Steve Niles) - A man becomes fused in a robotic suit
GI Spy (by Andrew Cosby) - World War II based spy comic
In The Blood (created by Steve Niles) - Werewolf horror
Ninja Tales - Ninja short stories
Pirate Tales - Pirate stories
Shmobots - (written by Adam Rifkin) - Helper robots created by the lowest bidder turn out as lazy slackers, 'shmo robots'. A story about 3 such Shmobots and their human roommate.
Zombie Tales - Short story anthology featuring zombies. Three Exist, plus the Two part Death Valley. The One-shot, The War at Home, was later serialised in three parts in the ongoing series.
Carry Over Series
Edit
Jenny Finn - BOOM! reprinted the first two issues of this series (originally released by Oni Press) in Jenny Finn: Doom, then completed the rest of Mike Mignola's story in the 56 page Jenny Finn: Messiah.[65]
Licensed titles
Edit
Boom! also produce comics based on licensed properties which include:
Warhammer
Edit
In 2006, BOOM! Studios attained the license from Games Workshop to produce a line of comic books and graphic novels based on international hit tabletop miniatures games Warhammer Fantasy and Warhammer 40,000.[73][74] These comics are particularly notable for featuring the work of fan favorite Warhammer novelist and comic writer Dan Abnett.
Series so far include:
Their imprint based on Disney/Pixar properties includes
KABOOM! also assumed the license to publish the traditional Disney comic book characters. They currently appear in the following titles:
Film adaptations
Edit
References
Edit
External links
Edit
Community content is available under
CC-BY-SA
unless otherwise noted.